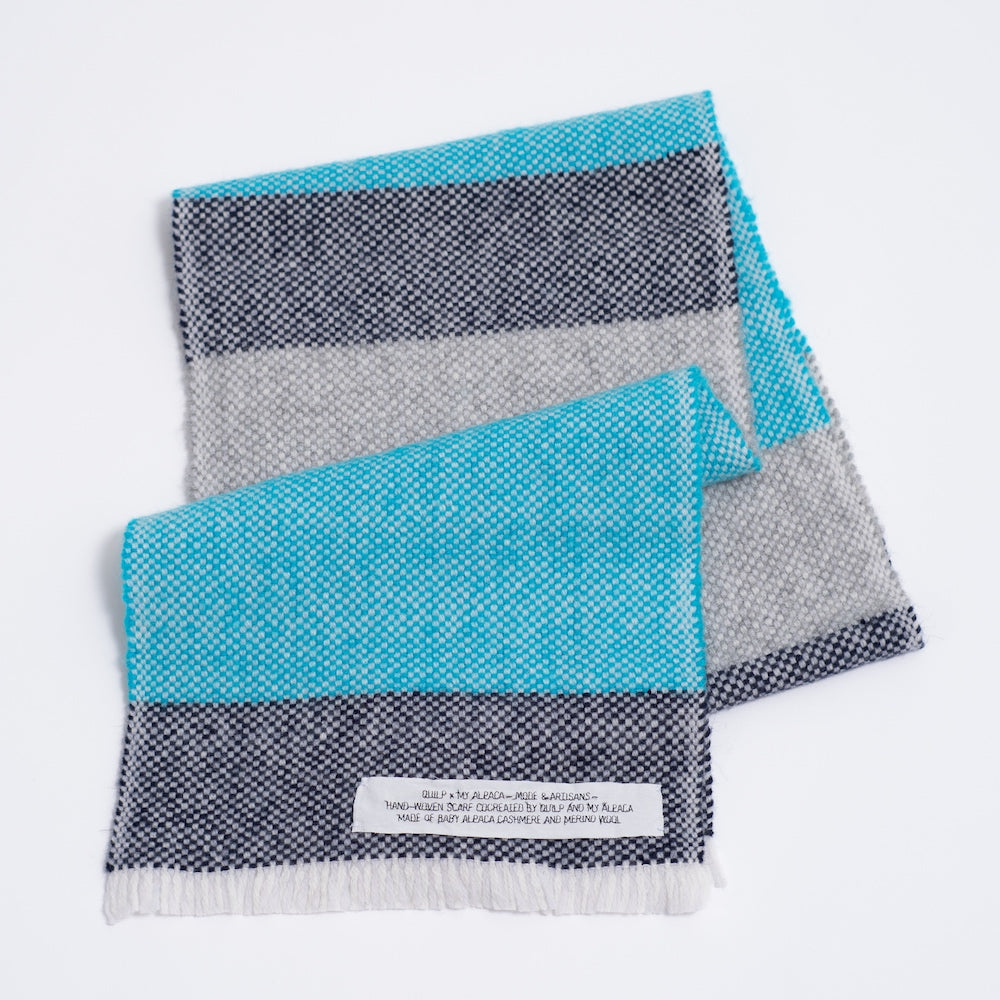 QUILP
Handwoven Alpaca & Cashmere Scarf by QUILP
Free shipping in EU / estimated delivery 2-3 weeks
QUILP's handmade scarves are designed with Japanese elegance by Masao Morishita. A casual touch of luxury.
QUILP is London fashion brand founded by Masao Morishita. Before taking the world of men's shoes and fashion by storm, Masao studied interior design in Tokyo.

New addition to QUILP's accessories collection is a luxuriously soft, hand-woven scarf in fresh and flattering colours. The shorter length makes it a neat fit for both men and women.
size guide
| Bed size | INCH | duvet size | INCH | pillow size | INCH |
| --- | --- | --- | --- | --- | --- |
| Twin | 39x75 | Twin | 71x86 | standard | 20x26 |
| full/double | 54x75 | full/double | 88x92 | queen | 20x30 |
| queen | 60x80 | queen | 94x90 | King | 20x36 |
| KING | 76x80 | KING | 108x94 | BOUDOIR | 12x16 |
| CALIFORNIA KING | 72x84 | CALIFORNIA KING | 106x92 | EUROPEAN | 20x26 |
Bed size
INCH
duvet size
INCH
pillow size
INCH
Twin
39x75
Twin
66xx86
standard
51x76
double
54x75
double
80x86
king
51x102
queen
60x80
queen
94x90
EUROPEAN
65x65
KING
76x80
KING
104x90
Bed size
Cm
duvet size
cm
pillow size
cm
single
97x195
single
150x210
small
36x51
double
140x195
double
190x210
standard
51x66
queen
152x195
queen
210x210
king
51x91
KING
180x195
KING
230x210
Bed size
Cm
duvet size
cm
pillow size
cm
single
91x190
single
140x210
standard
50x75
King single
107x203
King single
180x210
EUROPEAN
65x65
double
137x190
double
180x210
queen
152x203
queen
210x210
KING
180x203
KING
210x210
Bed size
Cm
duvet size
cm
pillow size
cm
single
90x190
single
135x200
50x75
double
140x190
double
200x200
65x65
double
160x200
double
240x220
double
200x200
double
260x240
Bed size
Cm
duvet size
cm
pillow size
cm
single
90x190
single
140x200
50x75
double
140x190
double
200x200
65x65
double
160x200
double
240x220
double
180x200
double
260x240
Bed size
Cm
duvet size
cm
pillow size
cm
single
90x200
single
135x200
50x75
single
100x200
single
135x200
40x80
single
120x200
single
155x200
40x40
double
140x200
double
220x200
double
160x200
double
220x220
double
180x200
double
240x240
double
200x200
double
240x240
| Bed size | Cm | duvet size | cm | pillow size | cm |
| --- | --- | --- | --- | --- | --- |
| single | 90x200 | single | 150x210 | | 50x60 |
| double | 140x200 | double | 220x220 | | 50x90 |
| double | 160x200 | double | 220x220 | | 60x80 |
| double | 180x200 | double | 220x220 | | 30x40 |
Bed size
Cm
duvet size
cm
pillow size
cm
single
80x200
single
160x210
50x70
single
90x200
single
160x210
60x60
single
100x200
single
160x240
65x65
single
120x200
single
160x240
60x90
double
140x200
double
200x210
double
160x200
double
200x210
double
180x200
double
240x240
double
200x200
double
240x240
Bed size
Cm
duvet size
cm
pillow size
cm
single
90x190
single
140x200
50x70
double
135x190
double
200x200
50x90
king
150x200
king
230x220
65x65
super king
200x200
super king
260x220